Our Production
Extracts and Hydrosols are important for the hair and body, they give us many needed; vitamins, antioxidants, and minerals.
They also help feed our skin and hair ensuring external care. For optimum skin and hair care a balanced internal routine is necessary.
Hydrosols are highly concentrated extracts and are about 20-30 times more concentrated than a cup of tea.
Why do we make our own extracts and hydrosols?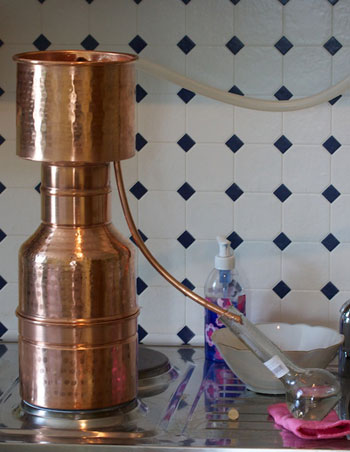 It became important to us to ensure there is no chemical contamination in our extracts. A majority of hydrosols commercially sold are chemically preserved. Even all natural products are unintentionally contaminated with chemical preservatives due to the lack of information and mentioning of manufacturers and suppliers.
Eliminating the guess work and research, we decided to distill and create extracts ourselves and can ensure you that you are receiving pure wild harvested or organic (when available) extracts.
Our Grapefruit Seed Extract we use has an organic origin so there are no traces of heavy metals, chemical preservatives, Benzethonium Chloride, Methyl Hydroxybenzoate, Propyl Hydroxybenzoate, and Triclosan.
Meet our distill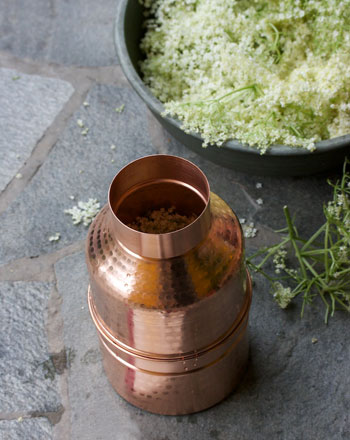 Our handcrafted distill as you may know is the correct tool for making wonderful extracts and hydrosols of all kinds. We use a copper distill in particularly because of its long stable history of commercial and traditional use.

Copper catalyses the breakdown of esters and sulphuric compounds in the steam vapors. Copper also improves the quality of the final product. Because of its natural state, Copper improves the aroma of the final distillation. Copper is also a great conductor of heat.

The first sign of distillation was found in Alexandria, Egypt. The first book dedicated to distillation was written by Hieronymus Braunschweig in year 1500 by the name of "The Book of the Art of Distillation"

No video selected.